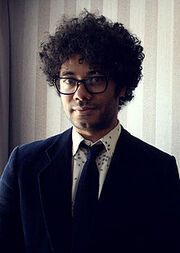 Richard Ellef Ayoade (born 12 June 1977) is a British comedian, actor, writer and director, best known for his role as Maurice Moss in The IT Crowd.
Early Life
Edit
Ayoade was born in Whipps Cross, London, the only child of Norwegian mother and a Yoruba-Nigerian father, but the family moved to Ipswich in Suffolk when he was young. Ayoade studied at St. Joseph's College[citation needed] in Ipswich and later studied law at St Catharine's College, Cambridge (1995–1998) where he won the Martin Steele Prize for play production and was president of the Footlights from 1997 to 1998.
Ad blocker interference detected!
Wikia is a free-to-use site that makes money from advertising. We have a modified experience for viewers using ad blockers

Wikia is not accessible if you've made further modifications. Remove the custom ad blocker rule(s) and the page will load as expected.