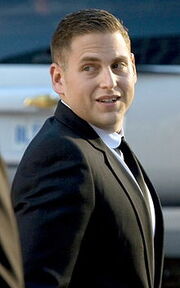 Jonah Hill (born Jonah Hill Feldstein);December 20, 1983) is an American actor, producer, screenwriter, and comedian. He is best known for his roles in Superbad (2007), Knocked Up (2007), Funny People (2009), Get Him to the Greek (2010), Moneyball (2011), and 21 Jump Street (2012). He made his feature film debut in I Heart Huckabees (2004). He also co-created and starred in the animated comedy Allen Gregory on Fox. Hill was first nominated for a Teen Choice Award for his role in Accepted (2006) as Sherman Schrader, and was nominated for an Academy Award for Best Supporting Actor for his role in Moneyball.
Early Life
Edit
Hill was born in Los Angeles, California, the son of Sharon Lyn (née Chalkin), a costume designer and fashion stylist, and Richard Feldstein, a tour accountant for Guns N' Roses.Hill was raised Jewish.His parents were originally from Long Island, New York, and the family vacationed in the Catskills.He attended The Center for Early Education, Brentwood School and then Crossroads School, in Santa Monica. After graduating from high school, Hill left California to attend The New School, where he studied music and sport.
Ad blocker interference detected!
Wikia is a free-to-use site that makes money from advertising. We have a modified experience for viewers using ad blockers

Wikia is not accessible if you've made further modifications. Remove the custom ad blocker rule(s) and the page will load as expected.